CAMPUSES
QUICK LINKS

2004 7th Annual Youth Awards Banquet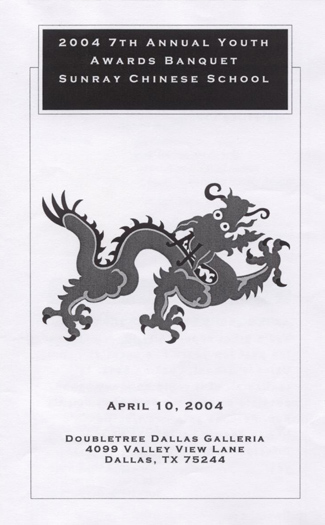 Daniel Liu,
Banquet Chair
Saturday, April 10, 2004
Doubletree Dallas Galleria
4099 Valley View Lane
Dallas, TX 75244

Tickets: $27 per person

For ticket information, contact Principal Fan at principal@sunraychinese.org
6:15 PM
Reception
6:45 PM
Opening Remarks
7:00 PM
Dinner Begins
8:45 PM
President's Welcome
Keynote Speaker
Awards Ceremony
9:25 PM
Talen Show
9:45 PM
Dance
Keynote Speaker: Jim Smith



Jim Smith is a former pro football athlete whose current vocation is in the field of automotives. A graduate from the University of Michicgan, he played pro football for the USFL Birmingham Stallions (1977 - 1982), the Pittsburgh Steelers (1982 - 1985), and the Oakland Raiders (1985 - 1986) as a wide receiver.

">While born in Harvey, IL, Jim now resides in Texas. He has one son, James Arthur Smith, a senior at the University of South Florida. Currently the general manager and vice president at the Saturn of Irving, Plano, and Lewisville, Jim shares over sixteen years of experience in the automotive business.

03/05/04 Young Asians Face ...
When his two children were in middle school, Philip Shinoda of Dallas gave them a blunt warning: "You're not competing against Bubba and Peggy Sue."
:: Click here to read article.
12/31/03 Chinese Acrobats ...
If you've ever seen the Chinese acrobats at work, you've probably wondered how they can accomplish such amazing feats. According to one fan, years of training make it all look easy.
:: Click here to read article.